Spiral Cooling Tower Introduction
доля
Источник

First Company
Издатели

SUNNY SUN
Время выпуска

2017/10/30
Резюме
Spiral cooling tower
Mainly used for cooling the Hamburg, moon cake, toast, French bread, caterpillars, larger bread production and longer cooling time of varieties, we can tailor-made for your big, small spiral tower, single tower and double towers.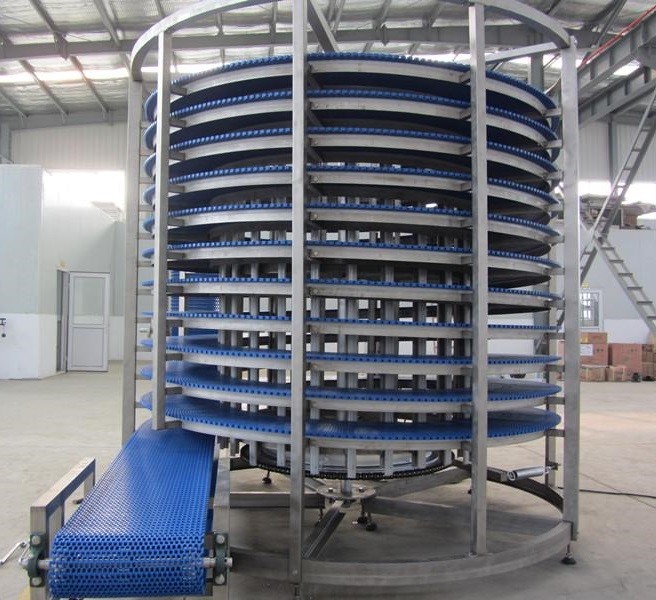 Spiral cooling tower
A. Spiral tower main use
Mainly used for cooling the Hamburg, moon cake, toast, French bread, caterpillars, larger bread production and longer cooling time of varieties, we can tailor-made for your big, small spiral tower, single tower and double towers.
B. Spiral tower working principle
Spiral cooling tower is through the spiral up and down conveying mode, will be fresh out of the oven, high temperature baking food temperature is reduced to the desired temperature of a device, for bread, moon cake, cake, pastries and stuffing of various baking cooling of finished products and raw materials for food processing. Spiral conveying tower is widely used in food, light industry automation continuous production line delay conveying equipment, suitable for material cooling, freezing, frozen temperature, fermentation process.
C. Main function of spiral tower
1.Cooling
Cooling a variety of baked goods, fried foods, cooling can be divided into 2 Types of natural cooling and forced cooling
2.Fermentation
We are supporting supplies with accurate humidification wind circulation and heating system, so that bread buns and other food dough in spire conveyor belt conveying surface in the process of fermentation and general in the spiral tower before and after the interface is connected and matched production line, for the users in a large scale to improve production efficiency, saving space, the whole fermentation process by monitoring system unmanned automatic production.
D. Characteristic of spiral tower
The United States transfer technology modular mesh belt conveying technology development of the main products, has smooth operation, simple operation, low maintenance cost, meet the requirements of safety and sanitation for food industry, food industry automation continuous production line delay delivery function device of choice.
Layer by layer spiral transmission tower is will slow down motor power through a shaft drive gear of each layer, by shifting gears each layer of network with movement. Each gear with intelligent power transmitter automatically adjust the transmission power.
E. Main parameters of spiral tower
1.Power supply: 380V, 50HZ. main motor power: 2.2KW, tension motor: 0.55KW
2.Outline dimension: 4300mmX4300mm, height as required.
3.Layer spacing: 150mm-300mm optional
4.Speed: 7 m /min can be adjusted or set speed according to the demand
5.Conveying chain width: chain network with the narrowest 200 mm width 1300 mm, the shortest 50 meters the 1200 meters long, spiral tower minimum diameter of 1.5 meters in maximum diameter of 12 meters. Conventional width 700mm, conveying shape is less than the diameter of 40mm products
6.Material: 1. Chain and network with made entirely of stainless steel 304, ensure durable. Matrix is made of 304, 201 stainless steel square tubes; 2. The modular network with
7.Tower height: spiral tower top 6 meters, the minimum 1 layer up to 40 layers, covers an area of small, flexible design, the layers of the spiral tower can be customized according to customer requirements
F. Main advantages of spiral tower
1, Double-sided nylon clip rail operation is very stable, machine and double fault does not occur. Using high quality inverter, speed reducer and import Schneider electric components assurance the accuracy and stability of equipment operation.
2, Due to the use of intelligent transmission technology of each layer of mesh belt will automatically adjust the tension, maintain each layer of uniform transmission capacity.
3, Due to the high strength nylon card PP guide rail and a low coefficient of friction during rotation does not need to add lubricating oil and can be maintained for many years without maintenance or replacement, but will not fall friction debris and contaminated food.
4, According to the user's production site design various import and direction.
5, Safety and health, conveyor belt for food grade plastic high strength, wear resistance, corrosion resistance, easy to clean, non adhesive material, does not damage the material appearance and pure chip residues, comply with the food industry safety standards requirements. Mechanical component adopts SUS304 material manufacturing, the overall structural stability, safety, long service life and material surface grinding or polishing treatment, bright surface health.
6, Electrical core part of the PLC programming control, touch screen operation interface, electrical components use international famous brand, has a beautiful, intuitive, simple operation, is provided with a broken belt, belt turning, overload, emergency stop, fault shutdown protection function, ensure the safety of the equipment.
7, Conveying speed can frequency control, set free, with strong and beautiful appearance, smooth transmission, low noise, simple operation, maintenance and the low maintenance cost.